Volunteers — The backbone of Central Kitsap Food Bank
We want your experience to be enjoyable and fulfilling. We'll do all we can to accommodate any special schedule or physical needs.
If you are interested in volunteering, on the day you intend to volunteer, we will give you a contact form to fill out, will have you read a volunteer policies and procedures manual, safety manual and you will be set up with a current volunteer to learn the job you will be doing for us.
Volunteer positions available
Help or assist clients shop through our grocery aisles
Unpacking and stocking food
Packing CSFP bags for our seniors
Light cleaning
If you choose to come in and volunteer, meet with our Office Manager.  She will get you set up and provide you someone to give you the training you need to work here.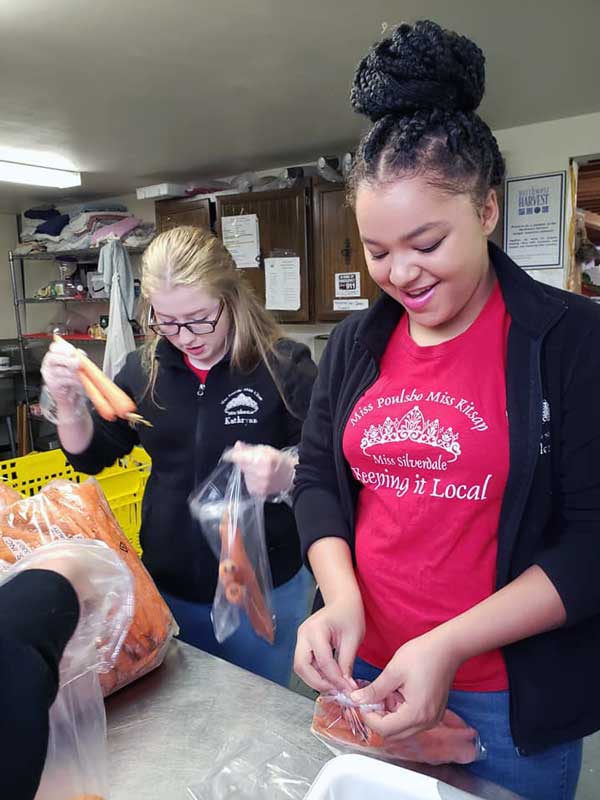 Princesses of Kitsap Country volunteering at CK Food Bank
FAQs – Information for new volunteers
When is the CK Food Bank Open for Volunteers?
9:00 AM to 2:00 PM
Monday – Friday
We are closed on holidays.
When is the food bank open for clients?
From 10:00 AM to 1:15 AM
Monday – Friday
Last client check-in is at 1:15 PM
Who can use the CK Food Bank?
Any person or family in need can use our food bank.
What types of things do volunteers do at the food bank?
Repackage food
Stock shelves
Help clients shop through the grocery.
What if I am not able to do all of those activities?
If you are unable to lift heavy items or stand, please let us know so that we can schedule repacking time for you.
Can I take a break?
Volunteers can take breaks as needed, but we prefer downtimes.
Are there age limits for volunteers?
We accept adult volunteers, while high school volunteers are accepted in limited numbers and must be at least 16 years old. We cannot have volunteers who are children because of the busy atmosphere and equipment used at the food bank.
Can I bring my child with me to volunteer? Can I have visitors?
We may able to accommodate your children under your supervision, however, please contact our volunteer coordinator for approval.
Do I need to commit to a certain day per week to volunteer?
For scheduling, we ask that you decide what day(s) you will volunteer. You are free to try different days for a few weeks before making your decision.
What if I'm unable to come in on my scheduled day?
Please call and leave a message (360) 692 9818.
If you know in advance that you will be out, please let us know.
3537 Anderson Hill Rd
P.O. Box 748
Silverdale WA 98383 USA
Central Kitsap Food Bank does not and shall not discriminate on the basis of race, color, religion (creed), gender, gender expression, age, national origin (ancestry), disability, marital status, sexual orientation, or military status, in any of its activities or operations.