OUR MISSION
Central Kitsap Food Bank provides food at no cost in a caring and respectful manner to people in need in our community while preserving the dignity of those we serve.
TELL ME MORE
CONTACT US
Hello and welcome to CK Food Bank!
We've been nourishing neighbors in need since 1989.
The Central Kitsap Food Bank began as a church pantry in Tracyton, WA in 1989. Moving to its current location next to Central Kitsap High School in Silverdale in 1992, we became a 501(c)3 non-profit corporation. We serve those who live or work in the Central Kitsap School District.
We are the lead agency for the federal food program called the Commodities Supplemental Food Program (CSFP), and as such we serve and/or deliver 30+ pounds of additional food to 767 low-income seniors each month.
Our sincere thanks to our daily donors
We wouldn't be able to give as much as we can if it weren't for their consideration and daily donations that keep us able to support our community.
7-Eleven
Costco
Hill Worldwide Moving Service
Monica's Bakery
Northwest Harvest
Safeway
Trader Joe's
Sprouts
Due to COVID-19, our Annual Auction fundraiser scheduled for May 2 has been cancelled and postponed to May 1, 2021. Click here for more info …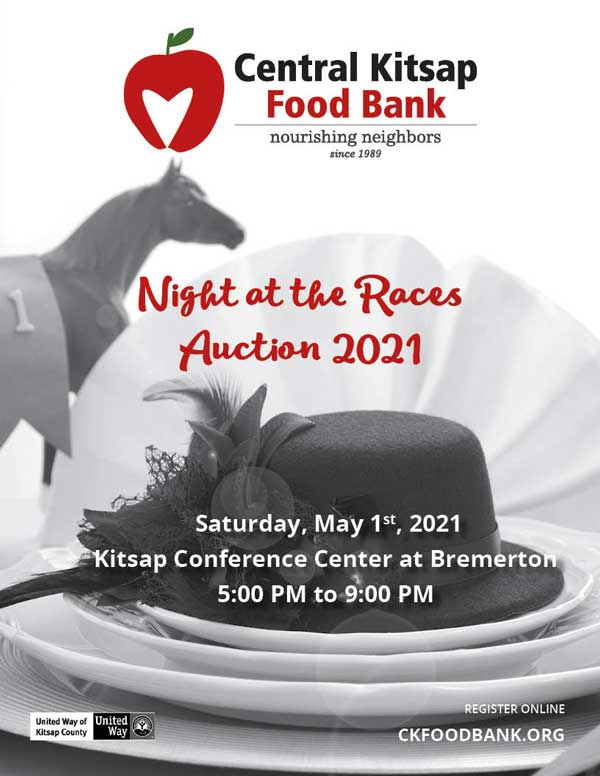 How you can help the needy in the Central Kitsap community
DONATE CASH & OTHER ITEMS
3537 Anderson Hill Rd
P.O. Box 748 
Silverdale WA 98383 USA